Early Warning System
The Early Warning System (EWS) provides your school with a graphical view of how your students are doing in specific areas, including Marks, Attendance, Incidents and, if applicable, GLOs. The system shows results in three groups, with the intent to address signs of need in their early stages:
Off-Track

Approaching Off-Track

On-Track
Users can drill down for more detailed information, and those with appropriate access can see names of students and access their Student Profile in eCSSS.  
To view EWS:
From the Navigation Menu, select School Profile.

Use Livesearch to locate your school record.

Click View Early Warning System.

 

The EWS chart is displayed.



NOTE: Track/Combo schools can filter results to a selected Track or Combo School. 
 

The bar chart indicates the following:
Red - Off-Track

Yellow - Approaching Off-Track

Green - On-Track

The tables below show how a student's performance is calculated to indicate whether the student is off-track, approaching off-track or on-track. The Incidents table (third one below) shows how Offense Classes are weighted.






Incidents - The total weighted score of the incidents in the last 30 school days is used to determine if a student is On Track, Approaching Off Track or Off Track.


 
When you click on any color of the bar chart, the list of students who are represented by that color are listed in the box below.
When you click on a student row, the box to the right provides even further detail. If you have access rights, you'll be able to click on View Student Profile and access that student's information.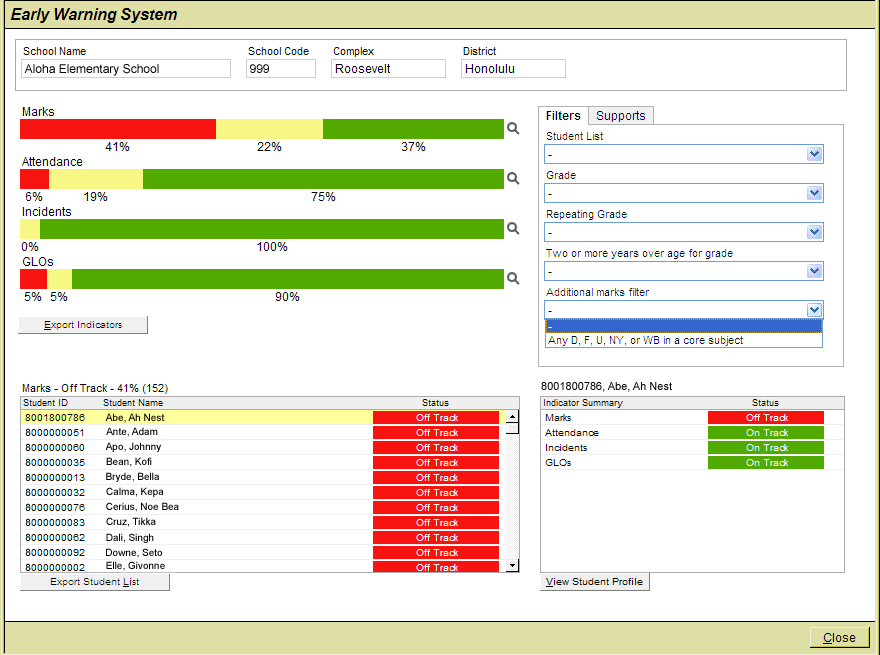 Filters - You can choose to filter your results by using any of the drop-down menus:
Student List - Lets you choose records according to custom-created Student Lists.  

Grade

Repeating Grade -  For students currently repeating a grade.

Two or more years over age for grade

Additional marks filter

Track/Combo School - This drop-down list displays for Track or Combo schools.
 
Supports - You choose to see results by the kind of supports the student is being provisioned. Use the drop-down list to select:
Interventions

Programs

Related Services

ELL Status
 
Export - The system allows you to create two types of spreadsheets.
 
Export Indicators - Clicking Export Indicators lets you capture your school's current counts and percentages for how student are performing with regard to Marks, Attendance, Incidents and, if applicable, GLOs.


Sample report:



 

Export Student List.- The Export Student List button displays for users with the appropriate access rights. If you click on any portion of the colored bar, you will see a corresponding list below with students who fall into the selected category. You can export this list to a spreadsheet.



Sample report